Attention Job Seekers and Tech Professionals

If you're fed up of looking for a high paying job in your field and feel like you'll never get an offer you're interested in, you are not alone.
Now You Have a Professional Resume Editor to Put Your Job Search on Autopilot and have the BEST Companies Contacting YOU With Interview Requests and Lucrative Job Offers!
Hey Job Seeker,
Would you like to have a steady flow of high paying employers and top notch recruiters contacting you and not just trying to convince you but literally begging you to accept lucrative job offers?
I know you would. However, at this point in your job search, a statement like this may seem too good to be true.
In fact, every single week I get contacted by recruiters about job opportunities. I recently went to a networking event at Google and one of the recruiters said,
"If you don't have recruiters contacting you at least once a month, you're doing something wrong."
But I bet you have seen people who seem to be getting more high paying job offers than they can literally handle while you struggle to get a single call back.
Do you think it's because these people have a better skill set or some other unfair advantages over you?
Seriously, they are not better than you. I'm sure you've come across your share of "not-so-qualified" co-workers before so it's not always about skills either.
The thing is that there's one thing they're doing differently…
…something makes employers 'fight' over them.
However, before I tell you how you can discover the SECRET to get any kind of job you desire without stress…
I Want To Make Sure That We're Not Wasting Each Other's Time Here.
So tell me if you fall into one of more of these groups:
Tired of sending tons of resumes and hearing no response

Frustrated because you have no "real-world connections" to help you get your foot in the door

Disappointed that its taking you so long to reach the level of success you truly desire

Sick of working 2 and 3 jobs to make ends meet and looking for a better paying job

Tired of trying to figure out how to make it in the tech industry, where plenty of opportunities are but you don't know how

Find the process of updating your resume boring, daunting, and overwhelming.

Find it hard to get your resume from being 2 and 3 pages long down to 1 page

Have the skills, but still have a hard time landing an interview

Simply frustrated with the job search process and wants someone with insight to help
If You Can Relate to Any Of The Above Situations, Then I Understand Your Frustration.
Get a resume professionally done for you!
It can be disheartening to have all these great skills and be overlooked. But, here's the good news: It's not your fault!
You're still searching for a job the old way—and it's like playing the lottery. The odds are slim to none.
You know the old way I'm talking about?
You search the big job boards hoping to be the chosen one from literally thousands of other competitors

You fill out long, boring, time-consuming applications, some of which require to create new logins and profiles, ugh!

You wait patiently

You hear no response

You get frustrated

You repeat the process hoping this time will be different and you would at least get an interview, but you don't even receive a call back or any interest
This method only leads to disappointment and frustration.
It's like a hamster running on a hamster wheel. You keep spinning your wheels but you are getting nowhere.
This is why the job market dynamic has changed.
And You Can Turn The Odds In Your Favor and Get Employers to Notice You, Interview You, and Hire You!
To do this, you have to know what makes them tick, and how to show them that you can truly make their company better.
This requires a kick-ass resume that will knock prospective employers out of their zombie state and literally get them excited to hire you.
Which brings me to one crucial point…
The Most Important Thing You Need Now Is A Killer Resume!
It's the ambassador that will represent you to your potential employer. And on it, you must present yourself in such a way as to impress the person who receives it and compels them to believe that you are just the right person they are looking for.
Do you know that a potential employer usually makes a short list of 'possibles' selected from the resumes which he receives in response to their advertisement? These are the applicants to whom he or she will grant an interview.
And because the interview and staff selection process is a time consuming chore, the recruiter will keep their 'short list' as short as possible to save some time and stress.
So the cold hard truth is that if you're not being contacted for interviews…
…and if you haven't landed the job you've been looking for, the problem is certainly not skill level, experience, educational qualification, or college GPA.
The Problem Is Your RESUME!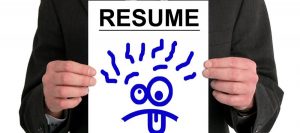 The reality is, these tech giants, corporations, and startups receive hundreds, if not thousands of resumes for one single position.
The hiring manager will typically look through each resume for just a few seconds.
For the hiring manager, finding a great candidate is like finding a needle in a haystack. And for you, it's like hoping that you will have the winning numbers for the lottery! It's not a win-win situation for you or the employers.
And unless your resume catches the recruiter's attention with a quick glance…
Unless it inspires curiosity, teases their brain, and encourages them to contact you, it is going to end up in the trash.
And you'll continue struggling to get a good job…or worse still, you will end up being unemployed for far too long.
That's why creative, innovative and smart professionals are now writing their resumes differently.
But Writing This Winning Resume Is Extremely Hard. And It's Not In Your Best Interest To Do It Yourself.
In fact, the following mistakes can lead your resume to the recycle bin! And I'm sure you have at least one of them in your resume right now.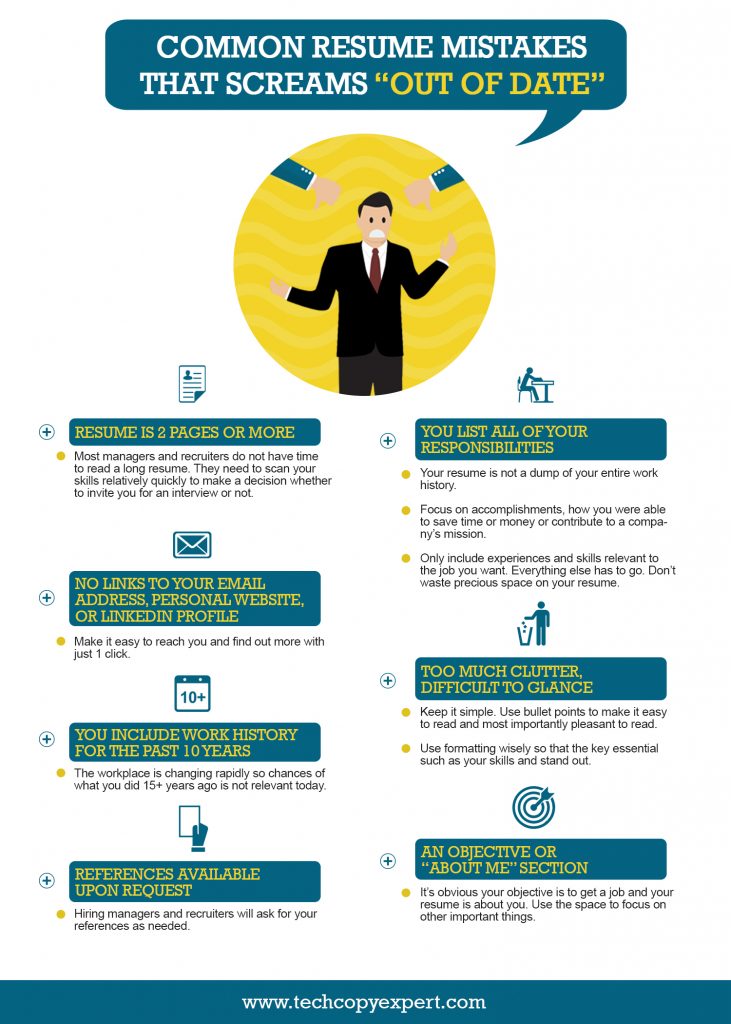 Now, Let Me Ask You: How Did It Go The Last Time You Tried To Sit Down To Write One For Yourself?
The whole process was daunting, and overwhelming. Right?
And you made one or more of the mistakes above?
Even worse still, you ended up not getting the words out. You got stuck with writers' block in the process — and after staring at a blank screen — you had nothing to show for your time.
But maybe you were able put together something you feel "might do"
When you send it out with high hopes of getting hired…
What happened?
Did It Land You the Interviews and Job Offers You Hoped For?
I can almost bet that the answer is 'NO'!
This is a cold hard reality most job seekers face. They just can't write the kind of winning resumes that gets them hired…
In the end they struggle to make ends meet…leaving the high paying employment opportunities for their neighbors to grab.
The Bottom Line Is: Your Resume Needs To Be Updated.
And if you're short on time or just find it to be overwhelming, then let an expert do the work for you.
But be careful when choosing a resume editor because some of them don't even have the talents to craft winning resumes…
And that's why you can hire someone to write you a resume letter that looks like good one…
…But Gets No Response!
So please, for the sake of your career, screen your resume writer more harshly than even your doctor.
Why?
Because your success as a job seeker depends on it.
Besides, if you search for a resume writer or editor online today, you'll find lots of guys who talk the talk.
But talk is cheap. It's a resume writer's experience that can help you get the job you want.
To Help You Choose A Qualified Resume Writer/Editor, Here Are Few Points to Consider!
Price/Rate: Don't ever think of hiring a cheap $5 fiverr resume writer. If you do, you'll definitely get is a cheap resume that will give you poor results.
Experience: Writing good resumes isn't what one can learn in a day or two. It takes a lot of time, effort and practice to become any good at it. That's why I'll advise you to flee from writers who are too new in the game.
Samples/Portfolio: Before hiring a resume writer, ask to him to show you some of the resumes he has written before. This is the only way you can find out how well he writes or what you can expect to get when you hire him.
Website: Any resume writer who has no website shouldn't be trusted. If you hire him from freelance websites and discussion boards, he can take your money and disappear into the thin air.
Specialty: Anybody who does resume writing, but has no formal training is not worth hiring. Have they used their own skills to get hired? If not, flee from them!
Clients: Before hiring a resume writer, ask which type of clients they have worked with. The idea here is to make sure that you aren't hiring someone who has no experience.
Testimonials/Reviews: Whatever a writer says about himself is bragging but what his clients say about him are proofs.
If You Read This Page To The End, You'll Find That I Check All The Boxes For Track Record, Experience, and Other Attributes Of A Professional Resume Writer.
My name is Kimmoy Matthews, a professional resume writer and editor with years of experience under my belt. Don't miss the fact that I'm a certified technical writer with an engineer degree to back it up.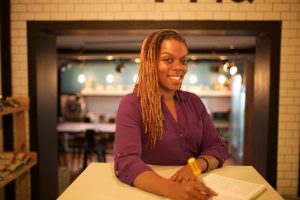 Because my resumes get people hired, I've served and satisfied dozens of top-notch clients. Heck, I've use my resume editing skills to get hired by top companies like Google, Accenture, and Verizon Business.
I have written resumes for people who want to work in IT, Engineering, and the Tech industries just like you.
And my clients, for the most part, have been overjoyed with their results; you can take a lot at their feedback and testimonials below.
As a Certified Technical Writer and Experienced Content Strategist, It Is My Passion To Craft A Resume That Wins Recruiters Over and Gets Them Excited to Present You with Multiple Job Opportunities.
I can:
Review, edit, audit and rewrite your resume (if it already exists) so that you walk away with a resume that catch employers' attention, and persuades them to hire you.

Identify the best paying jobs that matches your skillset and list the keywords and phrases to include in your resume. This way, you'll know how to you maximize its discoverability, land more interviews and more job offers.

Critique and analyze your resume to give you actionable recommendations on how to improve and rewrite it for maximum results.
Using Tips and Tricks that I've Learned From Recruiters Over the Years, I Can Work My Magic on Your Resume so that:
Your Qualifications will Stands Out

With just a few glances of your resume, there will be no doubt in the recruiter's mind that you have the qualifications they are looking for.

Your Resume is Optimized for Resume Searches

I use modern techniques that make it easy for recruiters and scanning systems to find your resume.

 Your Resume is Tailored to the Job You Want

No more generic resumes that lists all of your jobs with paragraphs of everything you've ever done. Streamlining your resume is my specialty.
So Let Me Work on Your Resume Which Can Land You Invites for Interviews and Even Job Offers.
I know what it takes to get hired in today's market. Even after traveling the world for 10 months straight, I was able to land a contract with Google.

I have over 10 years of resume writing and editing experience which I will deploy in your resume to help you get interview requests and lucrative job offers.

I'm familiar with the tech industry you want to work in so I'll give you a resume that's absolutely tailored for the job you want.

I will use attention grabbing elements to inspire the hiring manager to read more than just your name and location.

I'll carefully showcase your qualities that will slap your potential employers out of their jaded zombie state and force them to respond.

I'll maintain a close and regular communication with you throughout the process.

PLUS I'll work very hard to make sure that you get the first draft in as little as 7 days so you can take your job search to a higher level as soon as possible.
But that's not all though…
If You Choose Me As Your Resume Editor, You'll …
Get a compelling resume that is NOT filled with jargon and vague phrases.

Capture the attention of recruiters with a resume that stands out.

Highlight your skills and experience to show you are qualified for the job.

Get discovered in databases that will easily find and scan your resume for the job that you want.
Skeptical? Here's What People Are Saying About Me And My Services
"Thanks for the great tech resume… I really liked, how you re-organized the overall section with the dates so it could all go in one bucket. It also has me in it while saying "I did this stuff" which I like. It's a good tool. Useful. And puts me way more forward with just having something so I can get into a conversation. Thanks so much!"
Kirstin O. Marketing & Research Consultant
"I thought I had a good resume but she was able to modernize and really highlight my key attributes. Thanks Kimmoy!"
E. Joseph Mechanical Engineer, S.C. Johnson & Johnson 
"Kimmoy did a fantastic job with my resume. I am re-entering the job market after many years of freelance work and need a resume that reflects my particular skills for a particular position. Will hire her again!  I really appreciate your efforts. Even at first glance it looks excellent. Thanks!"
Lisa Lynne M. TV Producer
"Great service and great business"
"Thank you so much again! Great service and great business. I would definitely recommend you to anyone."
Davon H. IT Technician
By Now, You must Be Wondering How Much I Charge. Right?
I only charge a flat fee of $150.
That's just a drop of water into an ocean considering what you get in return.
But don't be fooled into degrading the quality of my services because of my rate. I'm not one of those resume writers who charge high fees just to increase the perceived value of their services.
At this stage, I am sure you are asking yourself why exactly I would be charging such a small fee…
So let me tell you.
I actually enjoy it.  I have a knack for helping job seekers get their dream job. I've even done a free 45-minute webinar to help job seekers flip the job search script for today's workplace.
Now, What's The Next Step For You To Take?
All you need to do is complete a simple form.  Don't worry, it is a very easy and will take something like few minutes to complete. Make sure you have your resume ready to attach to the form.
Even if your resume is in the worse possible shape. Send it to me anyway and I will work my magic.
Oh. It goes without saying, but your information will be strictly confidential.
Before You Take Action, Here's My Unbreakable Promise To You:
I can't guarantee specific results, like a certain number of interviews or job offers you will receive (or how soon you'll receive them) because of the resume I'll write for you.
There are too many variables to make such a predictive promise. Besides I'm not directly involved in your job search and cannot control how you intend to use the resume I'll write for you.
However, I guarantee that I'm going to give you my best to improve the chances of your resume getting discovered by at least 50% like some of my clients have experienced.
And I also guarantee not to disappear into the thin air after delivering your resume to you. Instead, I'm willing to work with you and offer strategies you can use to get more interview requests and job offers. It will be like having you own job search consultant.
And if for any reason, you're not satisfied with your resume after I've worked on it…
And you're not happy with the revisions (3 max.)…
And your resume is still not performing better than what you had before…
simply ask for a refund…
And I'll Give You Back Your Complete Payment With An Apology Note For Having Wasted Your Time.
In fact, I would be embarrassed to keep it.
So Now You Have A Few Choices…
You can try to write and edit your own resume by yourself when you know that you don't have the time and knowledge to do it.  That way, you'll end up getting no job offers after putting in a lot of effort into your job search.

You can hire a cheap copywriter (who is no better than you are) and get a resume that won't give you the results you need.

You can spend years, effort and thousands of dollars trying to master the art of effective resume writing so that you can write a winning resume by yourself. Who knows if it won't take you up to 2 years? And you'll be unemployed all those years

You can try spending up to $1,000 to hire expensive resume editors or buy some software that gives you only a one-size-fits-all resume template.
OR…
You can take action now and hire an affordable professional resume writer and editor like me to help you generate more interview request and job offers.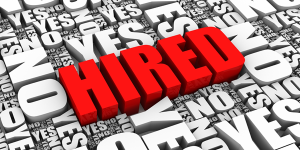 I strongly believe you're smart enough to make the wise choice.
Don't delay. Click the link below now and complete the form so that I can get started on the most persuasive resume for you.
I look forward to helping you get your dream job!
Kimmoy
P.S. Are you still wondering why some people attract interview requests and lucrative job offers like magnet while you struggle to get a single employer's response?
It's because they hire professional resume editors to produce winning resumes for them.
Now, you too can do the same. Click here now to hire a professional resume editor at a fraction of what others are paying.